About the Branch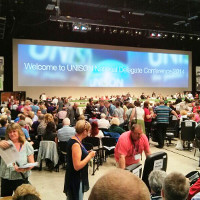 Aberdeen Universities UNISON branch, is the officially recognised trade union for professional and support staff at both the Robert Gordon University and the University of Aberdeen.
The branch works to represent and protect your interests in negotiations and consultations with the Universities. We also work in partnership to promote and enhance intiatives which benefit staff members or which further UNISON's policies.
Our Structure
We are a single UNISON branch for the purposes of branch membership and administration, however we of course deal with two distinct employers. As such our branch is structured with a single overall branch committee, but two seperate "Stewards Committee's" at each of the Universities.
Stewards Committees
The stewards committees are responsible for dealing with the employers regarding matters of negotiation and consultation, and for providing individual representation when members need us. The stewards committees are chaired by local Conveners.
Stewards Committee Conveners
University of Aberdeen
Owen Cox
Robert Gordon University
Colin Jones
Branch Committee
The branch committee is made up of elected stewards and lay officers from both Universities. The branch committee governs the overall branch activity, and meets at various times throughout the year.
Branch Committee as agreed at AGM
Branch Chair
Julie Yackiminie
Branch Secretary
Owen Cox
Branch Treasurer
Communications Officer
Membership Officer
Labour Link Officer
Colin Jones
Health & Safety
Liz Robertson (UofA)
Iain McLenan (RGU)
Lifelong Learning Co-ordinator
Vacant
Equality Officer
Vacant
Education Officer
Vacant
Welfare Officer
Vacant
LGBT Officer
Hamish Walker
Environmental Officer
Laura Benvie
Annual General Meeting
In line with UNISON's rules for branches, we have an annual general meeting at the beginning of each year, where all members are invited to come along and hear what the branch has been doing, to elect the branch committee and stewards, and to put forward any motions.
We hope you'll come along - these meetings are very important for the running of the branch. Invitations to the AGM are sent out in advance by email or post to all members.
Grampian Resource Centre
We're fortunate in Aberdeen to have access to the Grampian Resource Centre, which provides the branch with administrative and legal support through the UNISON employed full time officers.
Aberdeen Trades Union Council
The branch is affiliated to the Aberdeen Trades Union Council (ATUC), and is allowed to send nominated delegates to meetings of the ATUC. The ATUC is a body for the coordination of all trade unions in the Aberdeen and Aberdeenshire area, and is the group responsible for organising the annual May Day march, International Workers Memorial Day and the St Andrew's Day march. The ATUC was founded in the 1860s at the behest of the local trade union groups and has an office in Aberdeen.
Join UNISON Today!
You can join UNISON right now - no paper forms to print out and fill in, and nothing to post off. Simply sign up online to start your membership right away!
Join Online
What is a Trade Union?
Trade unions are groups of employees who join together to maintain and improve their conditions of employment.
The typical activities of a trade union include providing assistance and services to their members, collectively bargaining for better pay and conditions for all workers, working to improve the quality of public services, political campaigning and industrial action.
Unions train and organise workplace representatives who help union members with the problems they face at work. Reps provide support and advice and campaign for better conditions and pay.
Unions have brought significant changes to society, including:
a national minimum wage;
the abolition of child labour;
improved worker safety;
improving living standards by reducing the number of hours in the working week and encouraging a healthy work/life balance;
improved parental leave;
equality legislation;
better protection of migrant workers and a reduction in exploitation;
minimum holiday and sickness entitlements.
Unions have also made thousands of local agreements on issues affecting individual workplaces following consultation, negotiation and bargaining.